MONDAY MOVES
Every Monday 6-7:30PM we are hosting a SPECIALTY Program Just for YOU! See below a list of our upcoming programs and Register Today!
OCT 14th – The Importance of BREATHING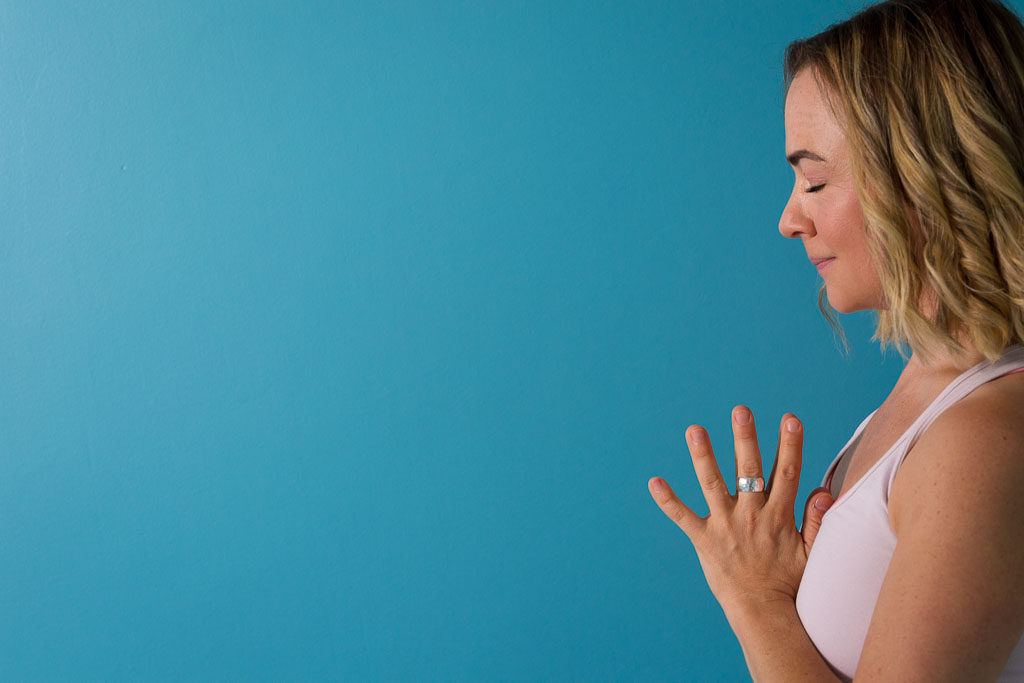 We take the breath for granted but the reality is that we use it all the time and we don't pay much attention. This workshop is focused on the basic fundamentals of breathing. When we pay attention to the breath something shifts and we all arrive home connected to who we truly are. By learning how to breathe, you will also learn how to dominate the mind and let go of anything that doesn't serve to create space for fulfillment and presence. Let's breathe!
What to expect:
With a beautiful therapeutic breathing practice and discussion, you will experience this 90min workshop learning about the roots of Pranayama and how you can improve your life bringing balance in body, mind and spirit. Also, you will take home a simple exercise to calm the mind for those moments when we most need it.
*All are welcome!
90Minutes with Leydre for only $30 SIGN UP NOW
---
OCT 12th – GUT CHECK; Essential Oils for Immunity & Digestion
Discover the many uses of essential oils for digestion!
74% of the population has digestive issues.
70% of our immune system is in the gut and with it being the second brain our whole body can be effected both physically and emotionally.
Discover the many uses for essential oils and your digestion; and why they are so effective.
Plus we'll get back to the basics and rediscover the many uses of essential oils for over all health. Discussing why they are so effective and how to use them safely and therapeutically.
I will also touch on how to reduce toxic load on the body which can also affect digestion.
*ONLY $10 and includes an Essential Roller to take home! REGISTER NOW
OCT 14th – THANKFUL FLOW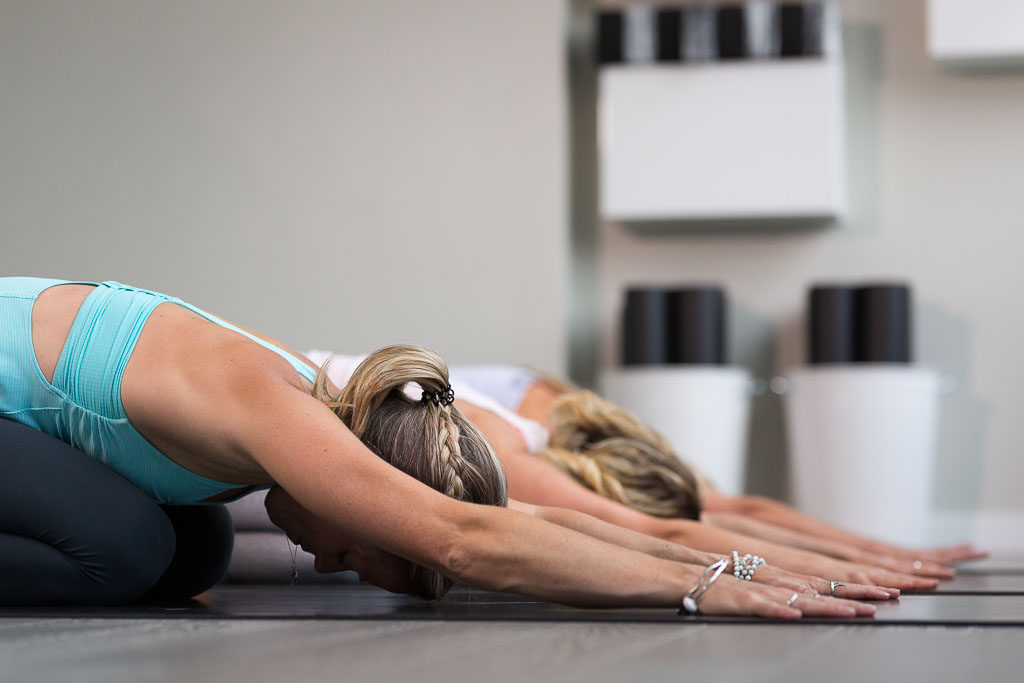 Take time to show gratitude, to be thankful for all we have and all we will create by enjoying time with friends, and family on & off the mat during our Thanksgiving SPECIAL class! This playful holiday focused practice will leave you feeling refreshed and rejuvenated pre Thanksgiving Dinner!
Breathe deeply in this guided start to the practice
Enjoy getting connected to your physical body and then supporting others.
Cleanse and clear your digestion to best enjoy your holiday meal.
90Minutes with Kristy for only $30 SIGN UP NOW
---
Primal Movement Series
A 4 Week Registered Program Starting OCT 19
How often do you bring your hands down to touch the ground? When was the last time you decided you would play instead of going to "work out". Primal Movement is a 4 week series designed to give you the tools to access more freedom, function, and mobility, in your body and daily life. Every class will offer a full body warm up and joint health routine and end with some traditional yoga asana and breath work. Each week will focus on a different theme/skill. Movements emphasize core stability, strength , and balance through crawling, accessing a resting squat, improving posture and inviting play back into one's physical expression and practice.l Whether you are an avid mover, or you simply want to invest more time into understanding how to move better, primal movement will offer you a framework to create your own movement practice that fits into your daily schedule and can be performed and enjoyed with the use of a gym or equipment.
Learn to move with more function, freedom, and confidence
Increased coordination, proprioception, and balance
Reduce chronic pain in lower back, hips, and shoulders
Invite more play and curiosity to your physical fitness routine
Skills exploration: bodyweight squat, animal movments/crawling, rolling, floor work, inversions, arm-balances, creating improves movement flows
This class will be suitable for all levels and modifications will be given for individual needs.
Week 1 – Accessing the Squat
Week 2 – Rolling & floor work
Week 3 – Inversions & arm-balances
Week 4 – Creating improvised flows
Individual class: $40
4 week Series: $150
Dates & time: Oct 19th – Nov 9th, 11am-12:30pm REGISTER TODAY
---
OCT 21st – YOGA FOR RUNNERS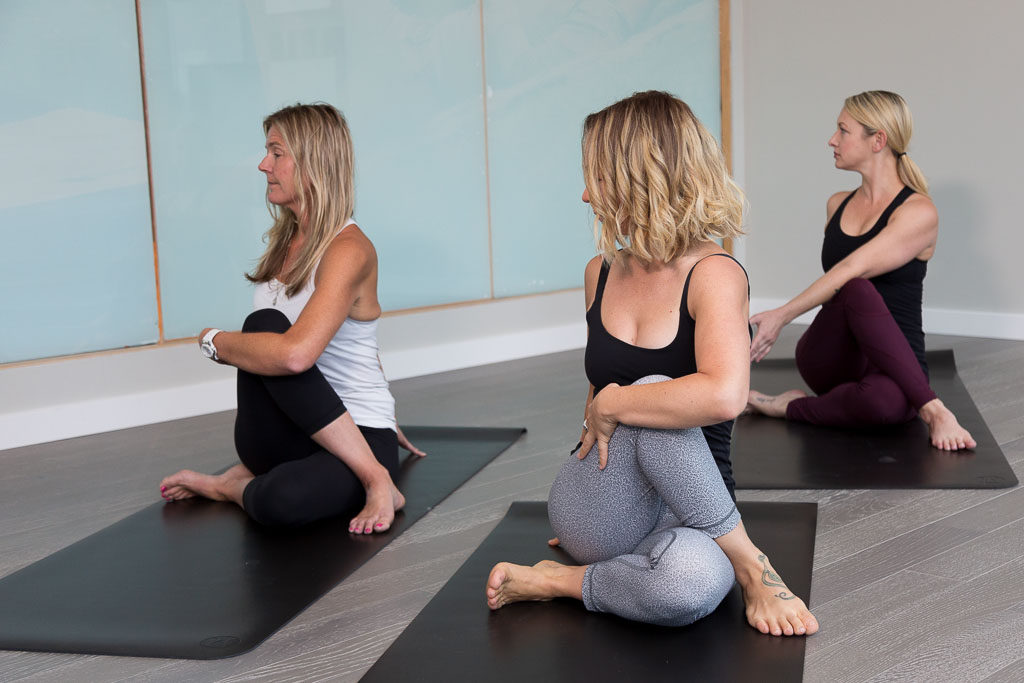 As a runner we 'know' we should stretch pre & post but we want to spend more time running then stretching… trust me I know! Take to the mat to learn the key areas to focus on pre & post run to prevent injury, move & breathe better! As a former runner Kristy has worked her yoga in a way with runners that makes sense and translates easily to a quick/simply access.
Move better!
Prevent injury and increase performance
An in depth presentation and discussion around injuries and prevention.
Leave with key movements for pre & post run that are easy to do and will help you achieve all your goals!
90Minutes with Kristy for only $30 SIGN UP NOW
---
OCT 28th – FIT FOR THE SLOPES
Heading to the mountains this winter? Join "Fit for the Slopes" to get your body geared up for a great season. Whether you're an avid skier or beginner snowboarder, we all want to steer clear of injuries & ride down the mountain feeling strong, confident & agile. In this workshop you'll learn exercises & stretches specific to skiing/snowboarding which will compliment & enhance your time in the snow. Movements will focus on building stability & strength, increasing mobility, and improving overall athleticism. By taking care of your body you'll help ensure a pain-free season and countless days of joy & freedom as you float down the mountain!
Ride stronger and longer – with more energy, endurance & confidence
Improve your carves, twist & turns
Ride down the mountain with fluidity, strength and ease
Eliminate aches & pains, especially in your knees, hips & back
Feel calm & focused in challenging conditions
Recover quickly & never miss a pow day because your too tired & achy

This class will be suitable for all levels and modifications will be given for individual needs.
90Minutes with Regan for only $30 SIGN UP NOW
---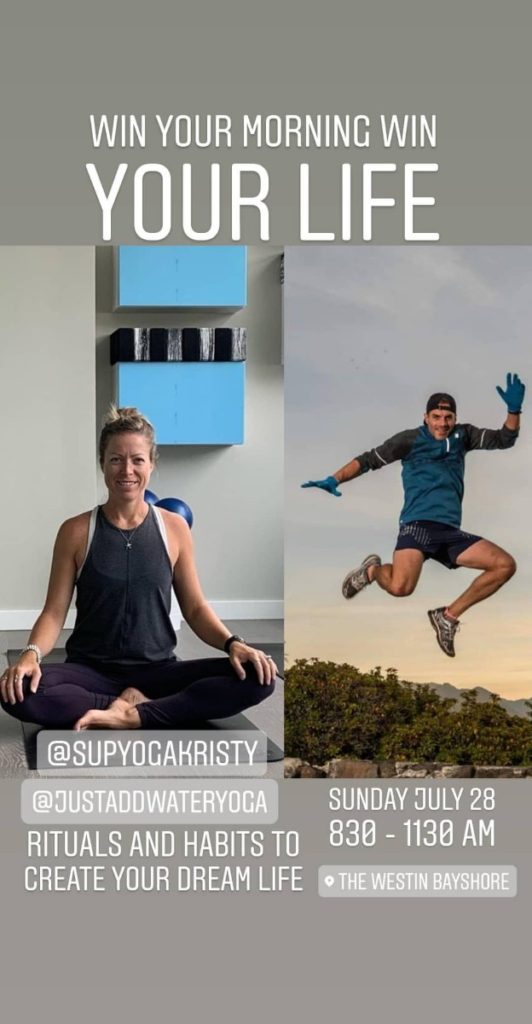 Win Your Morning!
*Rituals & Habits to create your dream life!
NEW DATE *** October 27th 8:30-11:30AM
Location: Just Add Water Studio at The Westin Bayshore Hotel
We invite you to join us for a special morning of community, connection and learning new skills to help you live your best life. This event will be held in Vancouver's newest boutique yoga studio located in the luxurious Westin Bayshore Hotel in Coal Harbour.
Join us to be one of the first people in this amazing new space and experience a morning that will leave you energized and focused on all you want to manifest in your world.
This is for your IF:
You want to make a shift in your life
Are looking for more than just a yoga class
Want to learn more about the benefits of meditation, gratitude and morning routines
You want to reclaim your mornings
You want to build powerful habits to set the tone for your day and your life
What to expect from this event:
– A clearer vision of the future you want to create
– Daily tools to help you get closer to your goals
– Connection to a new community of like-minded people
– A deeper understanding about how to use meditation
830 – Introduction and community building exercise
900 – Meditation and visioning exercise
945 – Functional movement class
1030 – Break (with complimentary smoothie)
1045 – The science of gratitude and journaling exercise
1130 – End of session
What to bring/wear:
– Yoga-appropriate clothing
– A bottle for water refills
– A journal
Your hosts
Kristy Wright Schell
Kristy is a professional Stand Up Paddler Instructor, and Registered Yoga Teacher, who has been teaching and coaching programs since 2011. She enjoys sharing her love of teaching on and off the mat water infused practices both on the water catching waves and learning to Stand Up Paddle, and then taking those teachings to the land based yoga mat were we learn to ride the internal waves of the mind and body through the breath.
Most recently Kristy opened Just Add Water Yoga studio to build a community where mindful and physical practices bring together like minded people – her ultimate passion is to create a healthier happier planet!
www.justaddwateryoga.com
@justaddwater
Michael Tranmer
Michael helps launch new online wellness coaches so that they can leave their corporate jobs and powerfully serve their people on a higher level. Michael has engineered a system that guides new coaches to get clarity on their message, develop their programs, and land their first clients.
His mentorship work also includes working with young engineering professionals to empower them into the soul leaders of tomorrow.
His transition out of corporate and into the coaching industry came after reaching a low point in his life, followed by a powerful transformation working with a coach of his own.
www.michaeltranmer.com
@michael.tranmer
---
SILENCE OF THE MIND – BLINDFOLDED YOGA!
This Halloween inspired class is not for everyone – but challenging your senses while doing yoga increases internal awareness since vision is one of the most active and mischievous senses. It also gives the eyes a chance to relax.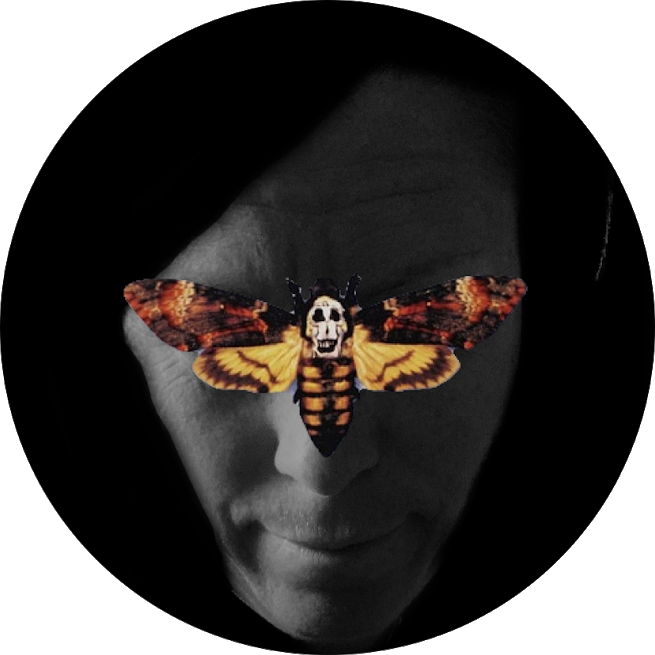 When the eyes are closed and relaxed the visual feedback is cut down to zero. As a result, the mind has much less information to process which in turn greatly increases the level of internal awareness.
This guided practice will leave you more deeply connected and offer a new level of challenge.
ONLY 10 spots for this workshop – REGISTER BEFORE IT'S TOO LATE
*All Level Welcome